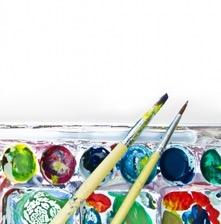 (Image courtesy link here – I daren't use a real Hockney ☺ )
Back in 2012 I visited the big David Hockney exhibition in London at the time and wrote a blog piece about it. Looking back at the statistics, it was the most popular page so I thought it would be good to revisit it after attending the new Tate Britain exhibition recently.
Here's the link to the original posting: Drawing inspiration from Hockney – 9 lessons
What has changed in five years?
Lesson 1 – he's still prolific:
Sure, he's been around a long time, but he has produced an enormous amount of work in his lifetime. He's changed in style and content over the years and has always experimented with different media. The result is a comprehensive "back catalogue" of art.
Inspiration: Write every day. No excuse. Are you a professional or not? Write across many genres and try new styles. Experiment, produce and ship. Build your catalogue.
Lesson 2 – he's big and bold:
He uses bright colours and large canvasses. He displays a real talent for drawing and perspective producing pieces that fill the wall. They absorb your attention, masking the crowd around you in the room. They can't be ignored. You can't just walk by.
Inspiration: Write books that fill the reader's minds and can't be put down. Sounds so simple.
Lesson 3 – he repeats himself:
This is something that many famous artists do. Monet's water lilies. Cezanne's Mont Saint-Victoire. Hockney takes a landscape and paints it in all weathers and all seasons, from the same angle and from different angles. Why? Isn't that boring? Perhaps it's something about the challenge of art reflecting life. We think it's a repeat but no two days are the same.
Inspiration: Write the same locations again and again at different times of the year and for different occasions. An Oxford street is never the same twice. Describe what you see in detail to make it different every time.